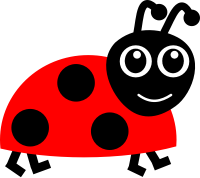 Have you ever wondered what ladybugs do in the summer? No, not the tiny red and black spotted bugs, but ODE's very own Ladybug preschool class! Here's the inside scoop on how these three and four year old students spent their summer break.
I started off by asking the Ladybugs, "How did your summer go?"
Hazel said, "My daddy just left to go home."
Joanie explained, "Good. I go home so I go to summer."
Crystal: "Um… I don't know."
Clementine: "Good."
Nora: "Good, I just played with my puzzle."
I then asked the Ladybugs, "Did you go on vacation?"
Hazel replied with, "I just went on a plane with my mom."
Joanie: "Yes, to summer, to Uncle Scott's and to Detroit, and Grandpa drive me there."
Crystal: "Yes, um…at summer."
Clementine: "I went to the fish park but there wasn't any real fish. But there was a pretend fish, but it wasn't a slide!
Nora: "Uh… no."
Well there you have it. Between plane rides with mom and pretend fish at the fish park, the Ladybug's summer in their own words.